This story from One Kings Lane is too good not to share.  All the content is from their site.
Flower Girl founder and owner Denise Porcaro knows how to set a scene. Take her shop on Manhattan's Lower East Side: vibrant, whimsical yet chic, and much like the effortlessly gorgeous arrangements she's become known for.Originally a student of film production, Porcaro founded Flower Girl about a decade ago. After years of working with clients and later setting up shop with denim retailer Earnest Sewn, she landed in her current location in 2012. Though not large, the space—part store, part classroom, part studio—evolves with the seasons. "I grew up in Queens, so I have that city vibe, but I also spent weekends on Long Island, so I knew the appeal of surrounding myself with nature," she says. We paid Porcaro a visit to borrow a few of her stunning bloom-styling secrets.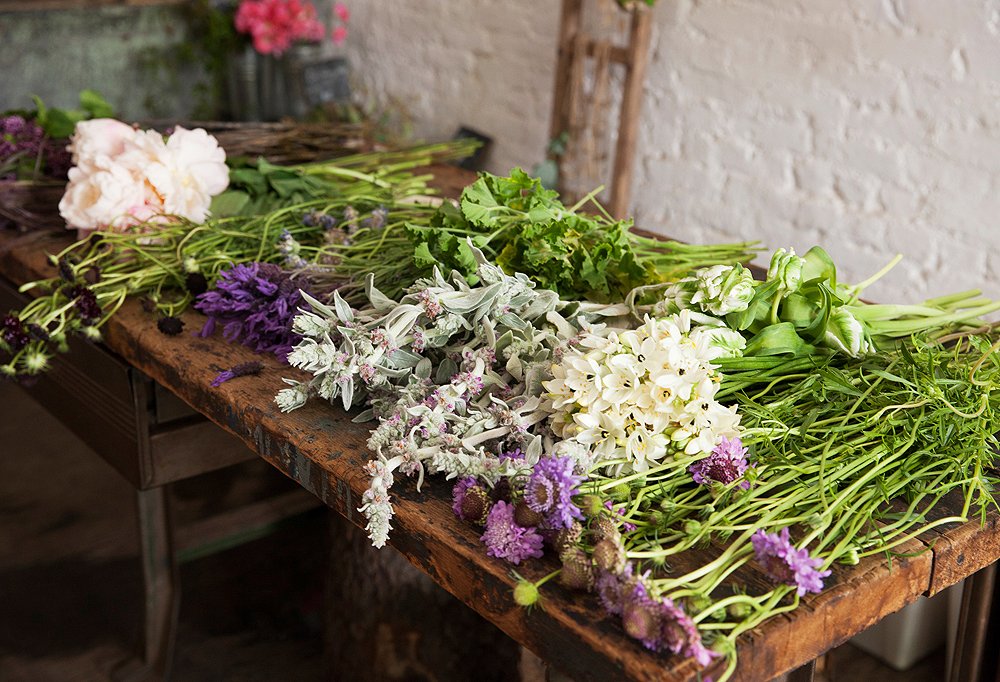 We asked Porcaro to show us how a single flower market haul could translate into several different arrangements, depending on the vessel you used. She began with lush, baby-pink peonies, along with armloads of other blooms, grasses, and fragrant foliage in a palette of purples, creamy whites, and pale greens. With this selection as a starting point, she created four very different but equally gorgeous looks.
#1: The Bedside Bouquet
To get this look, cut the stems so that the blooms rest right above the vase. Remove any leaves that will be below the water line to prevent bacterial growth, and keep the water fresh (change it every couple of days). And for the best effect, "stick with odd numbers," she says. Three blooms or five—not four!
#2: The Kitchen SinkPorcaro started with a wide-mouth pitcher and tucked in some soft, fuzzy lamb's ears before adding leggy scabiosa blooms. One of her own spring favorites, scabiosas are often found in the market in big, multicolored bunches, and they bring tons of life to a bouquet. Next she added branches of lilac (cutting a vertical slit into the woody stems with shears first, so they can drink), scented geraniums, and feathery ornamental grasses, then ruffly parrot tulips, and of course, peonies.
#3: The Beachy BundleOrnamental grasses with feathery purple tops were the starting point here. Easy and fun, they also create architecture to support anything else you want to add. Porcaro filled in with scabiosas in a range of colors, from light purple to deep, almost black red, and then finished with a single peony. "With clear glass, the stems are visible, and they'll look better if you limit the arrangement to a couple of types, rather than a kitchen-sink style."
#4: The Composed ArrangementFor this arrangement Porcaro removed most of the foliage from the stems and clustered a bunch of a single type of flower in one hand before tucking it into a sleek, Art Deco-style vase. Three peonies were followed by a cluster of lilacs. Next came parrot tulips, a bunch of lavender (the stems well cleaned), and finally some lamb's ears. The result is a polished arrangement of bloom clusters, each its own mini vignette.
Flower Girl's Flower Market Tip:
To keep from getting overwhelmed at the flower market, Porcaro suggests focusing on a single color. Knowing roughly what you need in terms of color, or perhaps what vessel you plan to fill, can help focus your shopping.
Photography by Lesley Unruh